Published on
21 years after his last feature, Beneath the Valley of the Ultra-Vixens, cult director Russ Meyer returns with his swan song: Pandora Peaks. It would be the last movie he would direct as Meyer passed away three years after its release. One can only speculate why he came out of retirement but it's possible that the fact that his career ended somewhat without closure for him might have had something to do with it. At the end of "Beneath" a never released movie was announced and it's well known Meyer was working on "The Breast Of Russ Meyer" throughout the 80s, also movie that has yet to see the light of day, but probably never will.
And when you're in your late 70s, having a young naked voluptuous woman in front of your camera might also have something to do with it.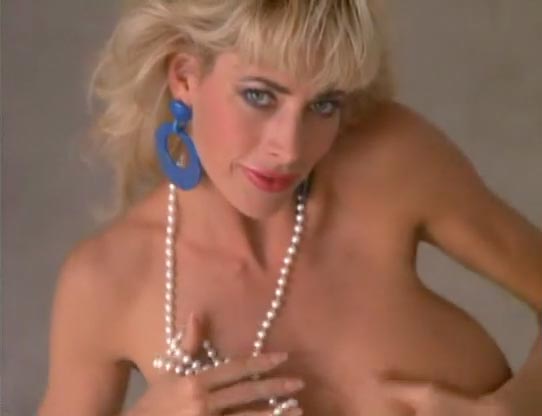 That woman is the titular Pandora Peaks and she was granted with a triple-H cup by her plastic surgeon. A wise investment as it's the main reason for her popularity at the time. Surprisingly Peaks isn't the sole subject of the movie as she has to share screen time with a Hungarian model named Tundi who is in possession of an au naturel set of breasts that can rival Pandora's. Also heavily featured is Russ Meyer himself, making this kind of a weird movie. Who ever went to see a Russ Meyer movie, to actually see Russ Meyer?
Meyer has claimed on multiple times his least favorite movie was Mondo Topless. It was a movie he made after his black and white "roughies" didn't generate the box-office returns they needed to. Mondo Topless featured a number of young, mostly voluptuous women dancing to music in outdoor locations. There was no plot, just these women dancing and sharing random tidbits about their every day life. It was shot in 5 days and only produced to make a quick buck to cover for the losses on the previous movies. Because Meyer dislikes Mondo Topless so much it's a mystery why he chose to use the same set-up for this movie. Pandora Peaks is nothing more than 70 minutes of Pandora dancing and stripping at several in- and outdoor locations while she tells us her life story. Her segments are intercut with those of Tundi, which were obviously shot in the 80s, and narrated by Ushi Digard pretending to be her. But Digard, 53 at the time of the movie's release, sounds much too old to pass off as young woman in her early twenties. But she does get the thick German accent right.
There is also some sort of Russ Meyer travelogue going on as he himself brings up stories about the war, has made some new shots on location in Germany where he visits old war buddies and tells us all about the history of the city of Palm Desert.
To call Pandora Peaks a movie would be giving it too much credit. The IMDB says that this is a documentary, but even that moniker doesn't quite fit the mold with this flick. It's a feature only made to titillate the audience and therefor should be labeled as softcore pornography.
It's a bit of strange movie as it's so abundantly clear that the stuff with Peaks and Meyer is shot in 2000 while Tundi and several shots re-used from previous movies are at least 20 years old. It even makes less sense when you realize that Peaks, Meyer and Tundi never have any connection to each other. These are just three loose elements mixed together. I can only imagine how Meyer had some stuff already laying around he never was able to use. The Tundi parts are probably from an audition tape he shot for a supposed feature and had still laying around, just like he used Lorna Maitland's audition tape in Mondo Topless. The segments with Meyer in Germany and fishing could be part of his never finished "Breast of Russ Meyer".
Making even less sense is the introduction of 2 other glamour models posing nude in front of the camera, Candy Samples and Leasha, both appearing during the final 5 minutes. As if Meyer realized that after repeating shots by Tundi for the umpteenth time he needed some other material he still had laying around to give the movie some extra flesh. It doesn't make any sense, but these girls where welcome change of scenery after seeing Tundi crawling in the bathtub or riding on a pillow again and again.
I would have rather seen a glamour model with natural boobs as the subject of the movie. Pandora comes across as a nice person and shares some fun anecdotes, but those enormous balloons on her chest which look incredibly fake, even though are mentioned to be real, aren't simply my cup of tea. I like big boobs, but they must have this natural look to them. It's the reason I liked the scenes with Tundi more than those starring Pandora.
Those familiar with Meyer's work can probably appreciate certain elements in this feature. Not only are a lot of Meyer's trademarks included (shots of radios everywhere!), there's also a cameo by Anthony-James Ryan as the Handyman; the same role her performed in 1961's Eve and the Handyman. The narration by Meyer is funny as are certain shots from the movie, especially those containing German street signs with the word "Butt" or "Titt" in them.
But other than that there's nothing much to Pandora Peaks. Having a central character in this kind of movie becomes tedious pretty fast especially when footage is rehashed over and over again. Mondo Topless had the same thing, and that one featured at least six women or so. Now it's just two women during the first hour. It's fun to see Meyer in action once again, but sadly just not funny enough.