Published on
The Notorious B.I.G. Never heard of him. That is until spring 1997. One day he was all over the news: after Tupac Shakur the next victim of the rivalry in the East-Coast and West-Coast hip hop feud. Not long after that his track 'Hypnotize' reached the charts here in the Netherlands, I'll be missing you was on #1 for weeks and subsequent songs like Mo Money Mo Problems and Victory made sure he left this lifetime with a bang. Before his death he wasn't household name, after he was. That leaves something of a bad taste. The question today is; does the movie depicting his life leave a bad taste?
No it doesn't actually and I'm surprised the buzz quickly after the release of the film was not as positive as the average biopic receives, some even fairly negative. Sure, it isn't perfect but it's interesting tale that has only been told before in documentaries. It's however by the numbers and fans of Notorious B.I.G. will see nothing they don't know already, but it's wel acted and looks great.
Notorious, as you might have guessed by know, tells the story of Christopher Wallace, A chubby teen who's protected by his mother from negative influences in the neighbourhood. But all the bling his schoolmates are wearing make it hard for a youngster to neglect the thug life and so he also starts selling drugs on the streets. He has a love for spitting rhymes but that doesn't pay the bills. Then one day he is introduced to a guy called Puff Daddy and he promises to sign him and make him a millionaire before he turns 21. But before that eventually happens there are unwanted pregnancies, adultery, jailtime and more to overcome. The life of a young black kid in Brooklyn is hard.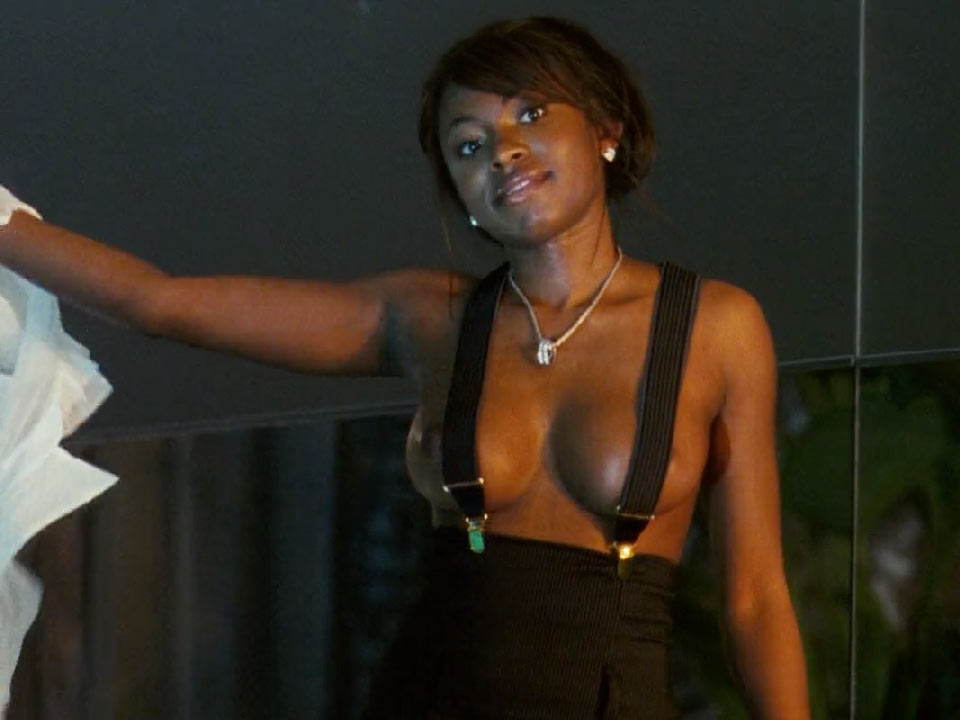 It's always a question about how much close a movie like this sticks to the actual story. I'm suspecting this movie has been glorified a bit here and there especially in the representation of Sean "Puff Daddy" Combs. The guy doesn't seem to posses any characterflaws. He's the one that keeps up on his promises, he's the one making the dope tracks, he has all the wisdom in him especially when it comes to the feud. The guy's almost Jesus Christ in this film. He was the executive producer of this film. I have a hunch he had control over his movie-character. As perfect as Puffy is, so flawed is our protagonist Biggie. A teenage dad who even sells crack to pregnant junkies. He goes to jail and after he starts setting foot in the rapgame he completely ignores his daughter. While he's still with his babies' momma he also enjoys the passionfruit of Li'l Kim and eventually marries Faith Hill 9 days after they met. Groupies still need to be fucked though, so he wasn't a perfect husband either. If they glorified him, I can only conclude he was an asshole. But I can't help but liking him. He has charisma and if I was in his shoes I'd probably do those hot women also. That's another thing this movie is full of: beautiful (read: sexy) women. There's really a lot of skin in this movie including Biggies. Yes, there should be a manboob-alert on the DVD cover. Luckily (for us males) we get tons nudity especially from Naturi Naughton who plays Li'l Kim. The girl has no shame and maybe that's because she has nothing to shame herself for. Just take a look the castlisting and that tells you enough with character descriptions like "Hot Girl" (Menyone DeVeaux). Another memorable part was by Julia Pace Mitchell who plays the part of the mother of Biggie's son, Jan, who's walking around with fairly impressive cleavage.
But enough about tits. The movie was interesting but not perfect. The movie could be at least a half an hour longer, because I felt certain aspects of his life were rushed. The relationship between Biggie and Kim could have used more depth as the miscarriage she had while carrying Big's baby isn't mentioned at all. Jan, the woman who raises his child disappears after the first act only to make a sudden reappearance in the last. As if she wasn't part of his life for a couple of years. They never show them splitting up so it remains a question as to why she was out of his life all of a sudden. I'm affraid there'll never be a version that will show more details in the story.
The actors all do a fine job allthough some of the characters look nothing like their real-life counterpart, most notably Puff daddy and Tupac Shakur. Once again I must complement Naturi Naughton for showing us a Li'l Kim like we know her from the media; with no shame and lot's of gratious nudity and sexual remarks.
Notorious is an entertaining story about one of Hip-hop's greats but lacks the details to make it a great film.