Published on
Bitch Slap is an homage to the exploitation movies from the sixties and seventies when big breasted women were responsible for kinds of violence. Sailing on the current Grinhouse trend started up by Quentin Tarantino and Robert Rodriguez comes Bitch Slap, a movie that is sort of a successor to Russ Meyers' Faster Pussycat, Kill, Kill. A movie that had three women in a desert environment evoking murder and mayhem. The same could be siad about this movie as well. The Spice Girls are a bunch of pussies, this is real girl power.
Damn, that sounds corny, which is kind of suitable to this movie which really is a throwback to the exploitation movies from back in the day. The opening credits of Bitch Slap is constructed out of small clips from exploitation movies made decades ago. The Pam Grier classic Coffy is one of them. This montage makes it clear that we're watching a homage to the genre, and not a movie that takes itself serious.
Which won't be a conclusion any one can make after viewing it. The movie is filled with winks and over the top scenes it's quite clear that one has to watch this more as a comedy than a thrilling action movie. What amazed me was that, unlike a lot of movies from back then, Bitch Slap actually never became dull and overstayed its welcome. From start to finish this was an entertaining movie, even if it lasted way beyond a regular running time of max 90 minutes.
The movie breathes low budget and exploitation, with basically every scene taking place either in a remote desert area or in front of an obvious green screen. The lead actresses are three incredibly hot and steamy lesbian girls who go out to the desert to reclaim $ 20 million in diamonds from a criminal. Things do not go according to plan and people do not seem to be who they said they were. These are the ingredients for a movie with guns, violence, sex, pussy eating nuns and a water fight.
The plot is strangely though more elaborate than one would expect. It actually has some twists and turns and most of this is seen in flashbacks. Where the current day setting in the desert is fairly realistic, all the flashbacks are deliciously over the top. One parodying James Bond, another showcasing a firefight in the middle of Las Vegas.
Yet with all these flashbacks the movie tries to be more intelligent than it should be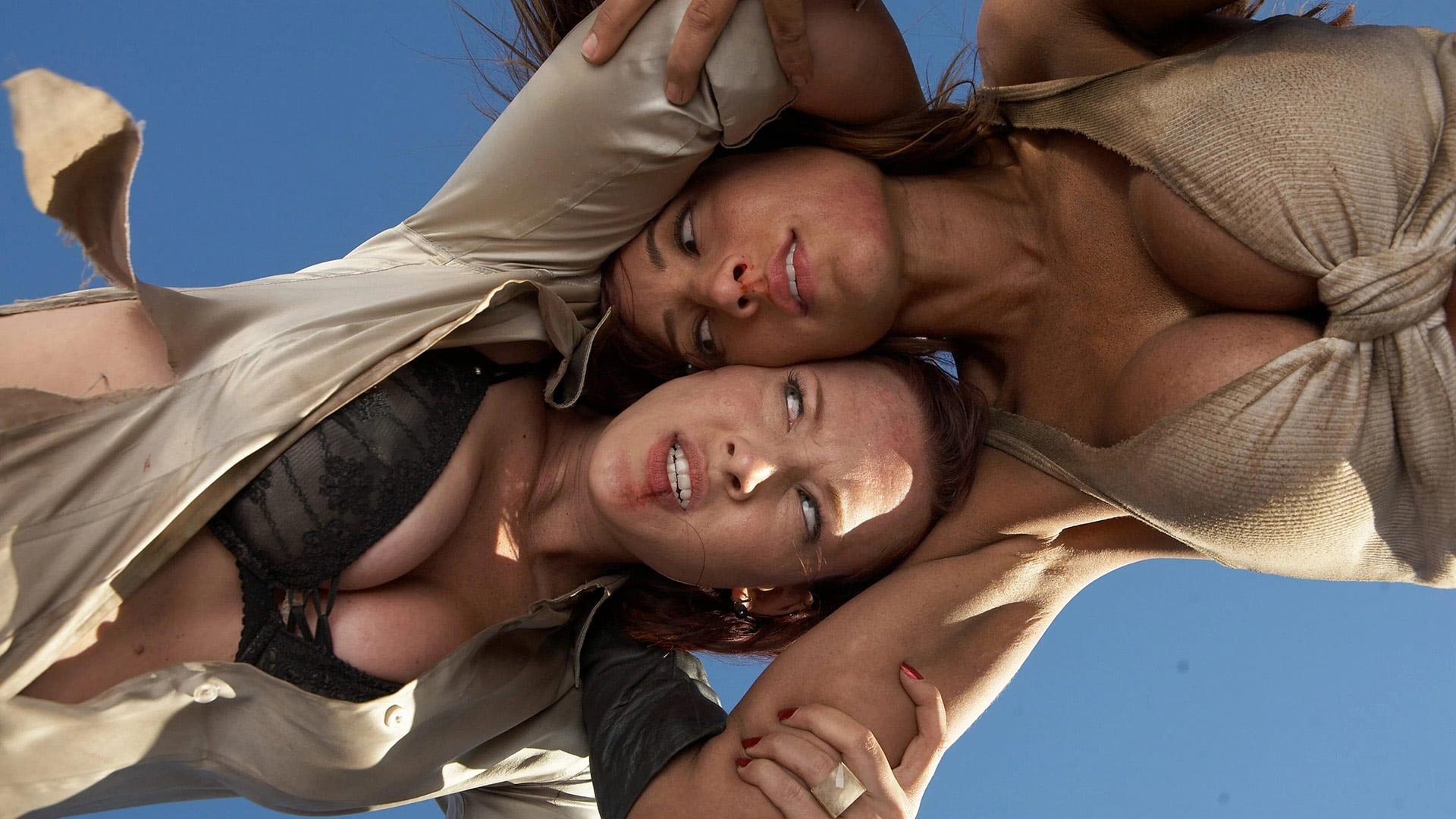 The fights actually look good, better than any movie from the sixties and seventies that is. A lot of slow motion is used and some of the punches thrown are really creative, one being a bit to the crotch. The movie does however want to impress Quentin Tarantino as it refers to two of his movies without any shame: the mentioning of going medieval on someone and the character of Kinki. An Asian battle chick with a saw blade ball attached to a chain. Sound familiar?
Of course you can't take this movie seriously and it never was the case to do so. Those into movies with and old school exploitation vibe should definitely check this out as well as the fans of beautiful hot women with impressive cleavages going all lesbian on each other.